ABOUT SUBTERRA
SBT Sverige AB was created in 2014 when the Subterra a.s. of Czech Republic established a business in Sweden. We operate from our offices in Solna and cover all of Sweden.
The business is focused on all underground construction, but the core competence lies in tunnel construction through conventional drilling and blasting. We have carried out and deliver projects for E4 Förbifart Stockholm and several contract for the extended metro in Stockholm where the biggest project is the extension of the Blue Line Akalla to Barkarby with two new stations.
Subterra a.s.
is a construction company that has been part of the
Metrostav
Group since 2004. The geographical market is Czech Republic but the company also operates internationally, mainly in Europe.
SBT Sverige AB has a turnover of SEK 1 554 million in 2021 and had 157 employees. In 2022, our turnover is estimated to reach circa SEK 1 500 million. We are basically a Swedish organization which is supported by Slovak and Czech staff when we, as now, have a large order book.
More information about our values can be found below and in our
sustainability report
. Our subcontractors are welcome to read our
purchasing policy
. How we are handling your personal data can be read
here
. Last year's financial numbers can be found in our
annual report.
For SBT SVERIGE AB, it is very important that reporting is made of misconduct regarding events / actions that are contrary to law or where there is a public interest. If you notice misconduct that could seriously harm our business or employees, you can report this in two ways:
• Option 1: Report to a manager within SBT SVERIGE AB or to the company management.
• Option 2: Report anonymously through the whistleblowing reporting tool as instructed below:
REPORTING is done in writing via the website
wb.2secure.se
or verbally by phone on +46 (0)77 177 99 77.
When reporting you must state the company-unique code sbt954 to identify that the report refers to SBT SVERIGE AB.
For more information, please read the company's
Whistleblowing Policy
.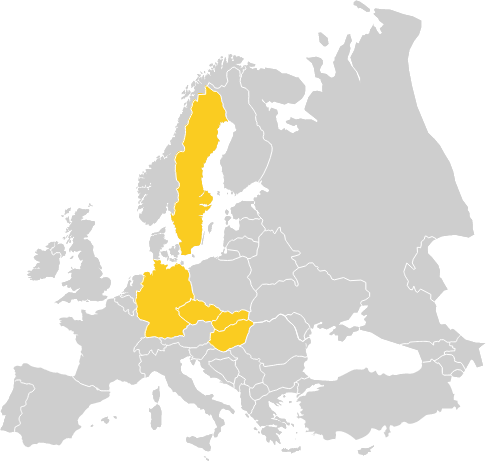 VALUES

• Commitment – We are positive, creative and involved.

• Community development – We stand for sustainable infrastructure construction.

• Professionalism – We are serious and knowledgeable towards our stakeholders.

• Respect – We have respect for each other and our professional roles.

• Integrity – We stand for what we do.

• Trust – We trust each other and we take responsibility.

CODE OF CONDUCT

1. We always follow Swedish law and practice good custom in the Swedish labour market. We comply with Swedish Labour Legislation, regulations and collective agreements that regulate working hours, wages and every employee's right to a correct employment contract. If there is no specific clause, to practice good custom in the labour market will apply to the company's management. By following the law in both theory and practice, we actively prevent suspicious inaccuracy.

2. Commitment, community development, professionalism, respect, integrity and trust are our fundamental common values. We constantly strive to create a safe, creative and healthy work environment. We always act respectfully, with commitment and we build relationships based on professionalism. We collaborate with partners who are qualified and reliable. We pay taxes, social insurance, health insurance and other mandatory payments on time.

3. The customer's opinion is important but never at the expense of a breach of ethical or legal standards. We do not tolerate corruption or unfair conditions. We do not provide or accept any payments or compensation that may lead to conduct in violation of law or ethical standards. We only work with partners whom we have no conflict of interest with and whose financial resources come from legitimate sources. We pay attention to security and data protection to the law.

4. We start from our social responsibility to citizens in Sweden. We strive to minimize the negative effects of our construction and business operations on the environment and our surroundings. We respect the needs and interests of natural and legal persons outside SBT Sverige AB. We honour legacy from previous generations and we act responsibly with future generations in mind.

5. We respect the rights and obligations of our colleagues. We do not allow any discriminatory behaviour. We guarantee equal opportunities for people regardless of gender, colour, ethnicity, nationality, religion or other different characteristics. We do not tolerate harassment or discrimination. We act with consideration, especially when it comes to the disabled, the seriously ill, the elderly and families with children.

6. We do not allow any conflict between personal interests and SBT Sverige AB's interests. We protect variable and intangible assets as well as intellectual property rights and our own. We carefully maintain all movable assets, real estate, intellectual property rights and confidential information from SBT Sverige AB. Business decisions must never be influenced by individual, family- or friendship interests.

7. We do not accept moral deviation. It is the responsibility of each employee to respect and follow the values of SBT Sverige AB. In the event of an indication of violations of the code, we notify the employee concerned of his or her unacceptable conduct. We also inform the appropriate supervisor, project manager and CEO. Measures against anyone who reported the withdrawal of our values or helped to disclose them are unacceptable. By doing this, we prevent any damages, criminal and legal, as well as moral sanctions against SBT Sverige AB and all honest employees in the company.
CONTACT
Call us:
+46 76 13 44 027
Visitor's address:
SBT Sverige AB
Frösundaviks Allé 15
169 70 Solna
Sweden
Supplier's address:
SBT Sverige AB
INX1053-001
831 90 Östersund
Sweden
Invoice by e-mail:
INX1053-001@pdf.scancloud.se
Attach the invoice as a PDF file and only one invoice file by e-mail. Any attachment must be in the same file.
Important information for supplier.
Invoice by e-invoice:
GLN: 7365590225596
Please send your questions regarding invoices to:
ekonomi@sbtsverige.se
RECRUITMENT
Recruitment means employment. Like many companies, we, SBT Sverige AB, offer several opportunities every year. Both on a blue-collar- and white-collar level. The number of recruitments varies depending on where in each project we are, and the number of employees is therefore different. But even if we do not have an active process at the time you are looking for a new job, do not hesitate to send us a spontaneous application to
rekrytering@sbtsverige.se
.
SUMMER JOB
Do you have an ongoing education in rock construction and see your future in the construction industry? Are you looking for a summer job? Then of course you are welcome to send an application! However, we do not have the opportunity to offer summer jobs for white-collar workers.
INTERNSHIP
Internships are a good opportunity to learn about reality and should therefore be made possible. That is our general opinion but depending on the area in which you wish to practice, an assessment is made about employee resources. From experience, we have a greater chance to provide internships at a blue-collar level and when an application comes in, we conduct a dialogue both on a project- and individual level. It is partly about where we are in the project, but also us making a personal assessment by always meeting the applicant. This is because we genuinely care to bring in resources that have the right attitude to the work. Who knows, maybe one day the internship leads to recruitment.
MASTER THESIS
Before each degree during the spring semester, we receive requests from students who want to carry out their thesis work with us. It is of course fun that future engineers turn to SBT Sverige AB and we support that as much as we can. For degree projects, similar conditions apply for internships. Depending on the status of our projects, we can offer this if you have, with some discussion, a clear purpose for what you want to investigate. But of course, the purpose must also angle what in the project would need to be investigated. In addition, all organisations look different. This means that the division in a specific area may differ from one project/company to another. Some areas could be outsourced to subcontractors, while others are not. This discussion is carried out with the respective project manager and thereby a decision is made as to whether carrying out thesis work at SBT Sverige AB is relevant.